At UniRelo, we want your overseas relocation to be successful and hassle free. And so we thought why not put together a comprehensive laundry list of wind up chores that will help you stay on track with your move to India?
Feel free to print and pin the below checklist somewhere at home and start checking off completed items.
We hope you find this checklist useful. You are welcome to call or email us if you have any questions.
6 Weeks Before You Move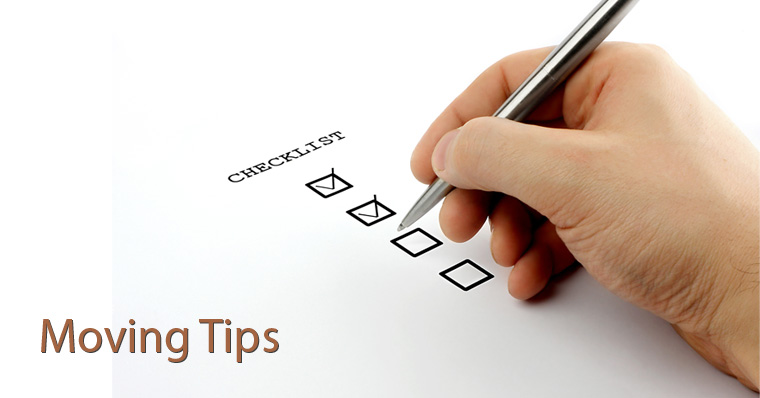 US Passport holders apply for OCI or PIO if you don't already have it.
Begin search for good health-care professionals in your new location.
Send your new address to anyone that might need it — insurance agents, banks, credit card companies, magazine subscriptions, friends, relatives, etc.
Clean out closets and dispose of all items that you will not be taking with you.
Hold a moving/garage sale, post on Craigs List or donate items to charities.
4 Weeks Before You Move
Send us a copy of your passport picture page
Give notice to your landlord or apartment if renting.
If you are packing any items on your own…. Start packing! Be sure to read the packing tips on our website
Begin to use up overstocks of staple foods and perishable foods.
Gather valuable personal papers that you may need at your destination location, including passports, visas, medical and dental records, school records, birth certificates,
etc. This can be packed in a "essential carton".
Book your flight tickets and make hotel reservations if staying in a hotel.
Place your car on sale (Craigslist, dealer negotiation etc)
3 Weeks Before You Move
Arrange to have utilities (gas, electricity, phone, cable, internet, water, garbage, etc) disconnected in your present home
Arrange to have utilities (gas, electricity, phone, cable, internet, water, garbage, etc) connected in your new home
Arrange for child care on moving day.
If necessary, reserve apartment elevator for pickup dates.
2 Weeks Before You Move
Finalize your move date and let us know
Sell or give away house plants.
Dispose of all items too dangerous to move, including flammable liquids and aerosol containers… if it's packed under pressure then it is not recommended to ship.
Start packing suit cases that you will check in.
Arrange for cleaners to clean your home or apartment 2 days after the scheduled pickup.
FCL Customers, call your city to check if a parking permit is required for loading the container outside your residence.
1 Week Before You Move>
Send us your insurance documentation no later than 4 business days before the pickup date. This will give us sufficient time to activate your insurance before
pickup and email you the insurance certificate so that you have true door to door coverage from the time the movers start packing.
Be sure to give us your contact information in advance. If you do not have a India phone no. yet then give us the contact number of a friend or close relative. We must have a way to reach you other than by email.
Transfer money from your US bank accounts to your India bank accounts.
Make arrangements to pay for your move.
Cancel newspaper delivery.
Have enough medication to last at least two weeks. Have prescriptions forwarded to a pharmacy at your new destination.
Buy traveler's checks.
Withdraw items and close your safety deposit lockers.
Make local transport (car, taxi etc) arrangements for your family at the departure and arrival airport.
2 Days Before You Move
Defrost and dry refrigerators and freezers to be moved.
Set aside passports, visas, tickets and valuable items to carry with you including jewellery, vital documents, money and valuable small items. These items must not be.
Shipped in containers and no insurance company will cover these items.
If you are engaging us or a local mover for packing, mark any large items such as furniture that does not go with post-its saying "Does Not Go!". This will help ensure that items you don't want to ship are not inadvertently packed by the crew.
MOVING DAY
Be on hand to answer questions and give directions to movers and stay until they are finished.
Complete any pending UniRelo documentation and read all documents before you sign them.
Inventory (Packing List) needs to be signed.
Make sure you have your copies of the inventory.
Before the crew leaves, take one final look through the house to make certain nothing has been left behind. Pickup for left over items costs more money so it is advisable to take a final look before the crew leaves.
FCL customers, make note of total packages loaded, the container no. and seal no. and provide it to us along with a copy of the inventory right after the container leaves as we need to submit your information to the steamship line before documentation cut-off to prevent the container from rolling to the next available ship.
AFTER PICKUP
Look for our invoice and online tracking information. FCL customers will receive this within 2 – 3 business days. LCL and Excess Baggage customers will receive this after the shipment is palletized and loaded for sailing at the warehouse.
Send your payment on time to ensure there are no delays in processing your Bill of Lading and clearance.
After the cleaners are done and before boarding your flight, turn off the gas at the meter and the electricity at the switchboard.
Check status of your shipment once a week using the online tracking information provided to you.
5 – 7 DAYS BEFORE ARRIVAL OF SHIPMENT AT PORT
Complete and courier Indiancustoms forms provided by our India office.
Courier your passport to our India office or make arrangements to be present for customs inspection
AFTER ARRIVAL OF SHIPMENT AT PORT
Wait for email from our India office advising you of customs duty charges payable if applicable.
Remit customs duty and port charges if applicable to our India office after customs assessment.
Wait for our India office to advise delivery date.
Arrange for child care on delivery day.
Reserve elevator on delivery day if applicable.
Purchase step down transformers for any 110V electronics and appliances and NTSC->PAL converters if needed.
DELIVERY DAY
Be on hand to answer any questions and give directions.
Supervise unloading and unpacking.
Sign the inventory and delivery paperwork.