Articles Prohibited from Importing To India
Articles Prohibited from Importing To India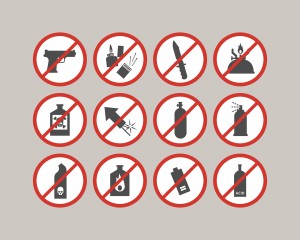 Alcohol, Alcoholic Beverages & Tobacco products
Alcohol & Tobacco products are restricted for import into India. Alcohol products also can be restricted due to Hazardous Materials/Dangerous Goods Transport Regulations.
Firearms, Weaponry & Military/Tactical Equipment
All of the following Firearms, Weaponry, and Military/Tactical items are prohibited and will not be exported by us:
Weapon Accessories, including:
Magazines/Ammunition Clips
Butt-Stocks
Gun Barrels
Firing pins, Hammers
Trigger Housings
Upper Receivers
Lower Receivers
Weapon Lasers
Holographic Weapon Sights
Red Dot Sights
Reticle Sights
Rifle Scopes
Thermal Imaging/Night Vision Scopes
Firearms, Guns (whether real or replica)
Ammunition, Bullets, Cartridges, Gun Powder
Tactical/Military Helmets
Body Armor/Kevlar (both soft and hard)
Gas Masks and Gas Mask Filters
Mace, Pepper Spray
Bayonets
Brass Knuckles or similar articles
Stun-Guns, Stun-Batons, Tasers
Batons, Saps, Billy Clubs
Metal Hand-Cuffs, Plastic Zip-Tie Restraints
Police or Military Uniforms
Please note that the above list is not exhaustive.
Hazardous Materials / Dangerous Goods for Transportation
Many products may be restricted or prohibited as Hazardous Materials for Transportation (Dangerous Goods). In order to confirm whether a product is considered a Dangerous Good and whether UniRelo is able to export the product on your behalf, we recommend you provide us with a Safety Data Sheet (SDS) (formally known as a Material Safety Data Sheet (MSDS)). Your Merchant should be able to provide you with this document. The following list is not exhaustive, and products may differ in classification depending on ingredients contained within the product. If an item is listed as Prohibited, UniRelo will not be able to export and may not be able to return the product domestically.
Explosives
Detonating Cords, Blasting Caps, Fuses, Primers, Igniters
Ammunition/Cartridges, Gun Powder, Fireworks, Flares
Fireworks
Cap Gun Caps, Model Rocket Engines
Lighters with fuel and Matches
Carbon or Activated Carbon
Meals Ready to Eat / MRE's
Fire Extinguishers
Poisons & Toxic Substances
Biological & Medical Cultures / Samples / Specimens
Tear Gas
Infectious Substances
Laboratory Chemicals, including corrosives, acids, lye, or other strong bases, etc.
Agricultural Chemicals, including pesticides and fungicides
Oxidizing Agents
Chemical Oxygen Generators
Nitrates
Nitrites
Hydrogen Peroxide
Potassium Permanganate
Radioactive materials, including irradiating devices
Airbags, Air Bag Inflators
Fertilizers
Paint, Varnish, Stains, Paint Thinners
Acetone, Nail Polish, Nail Polish Remover
Cologne, Perfume
Aerosols, including hair spray, bug spray, shaving creams
Compressed Gases, including CO2 cartridges
Glues and adhesives
Dyes
Household Chemicals, including:

Window/Counter Cleaners
Drain/Oven Cleaners
Antifreeze
Alcohol-based Hand Sanitizers

Water/Aquarium test kits
Large or Strong Magnets
Lead Acid Batteries
Lithium Ion or Metal Batteries
Other Prohibited Items
Money, cash, bank bills, coins, currency, paper money and negotiable instruments equivalent to cash, such as endorsed stocks, bonds, drafts and cash letters.
Collectible coins and stamps.
Postage stamps.
All live animals and live Poultry.
Live insects.
Animal carcasses. (Taxidermy, animal heads and other parts for taxidermy may be accepted but must be properly packaged; however, they will not be accepted for any Intra Canada or cross border shipments.)
Human corpses, human organs or body parts, human and animal embryos, or cremated or disinterred human remains
Products or commodities that are prohibited by applicable local, state or federal law.
Products that may cause damage or delay to equipment, personnel or other shipments.
Lottery tickets and gambling devices where prohibited by local, state, federal, provincial or national law.
Hazardous waste, including, but not limited to, used hypodermic needles or syringes, or other medical waste.
Packages that are wet or leaking.
Pornographic and/or obscene material which is prohibited by law.
Biological Products.
Etiologic agents.
Household Waste, Industrial Garbage.
Letters, with or without stamps
Liquids, in bulk, requiring special tank truck equipment.
Nitrocellulose (Except UN3270).
Revenue or Tax Stamps.
Valuable papers of any kind.
Tires that can be defined as used, defective, scrap, salvage, waste, or are otherwise other than new.
Perishable foodstuffs and foods and beverages requiring refrigeration or other environmental control.
Products requiring refrigeration or protection from heat.
Carbon Black or fine powder particles demonstrating similar characteristics to Carbon Black.
Fresh Foods: including Milk, Cream Vegetables, Fruits, and Meat.
Envelopes or wrappers, government stamped.
Articles of extraordinary value.
Vehicles, Motorized/Self Propelled.
Artwork, including any work created or developed by the application of skill, taste or creative talent for sale, display or collection. This includes, but is not limited to, items (and their parts) such as paintings, drawings, vases, tapestries, limited-edition prints, fine art, statuary, sculpture and collector's items.
Film (including moving picture films), photographic images (including photographic negatives), photographic chromes and photographic slides.
Any commodity that by its inherent nature is particularly susceptible to damage or the market value of which is particularly variable or difficult to ascertain.
Antiques or any commodity that exhibits the style or fashion of a past era and whose history, age or rarity contributes to its value. These items include, but are not limited to, furniture, tableware, glassware.
Museum exhibits.
Collector's items such as sports cards, souvenirs and memorabilia. (Collector's coins and stamps may not be shipped).
Jewelry, including, but not limited to mounted gems or stones (precious or semiprecious), industrial diamonds, and jewelry made of precious metal.
Furs and fur pelts.
Precious metals, including, but not limited to, gold and silver bullion or dust, precipitates or platinum (except as an integral part of electronic machinery).
Stocks, bonds, cash letters or cash equivalents, including, but not limited to, food stamps, postage stamps (not collectible), traveler's checks, lottery tickets, money orders, gift cards and gift certificates, prepaid calling cards (excluding those that require a code for activation), bond coupons, and bearer bonds.
Any commodity described in the National Motor Freight Classification (NMFC) as Class '0'.
Any item otherwise prohibited by federal, state or local law, rule or regulation.
Additional information about many of the U.S. export regulations discussed on this page may be found at the following websites:
Export Regulatory Authorities in the USA:
Department of Commerce Bureau of Industry and Security
Department of State Directorate of Defense Trade Controls
Department of Treasury Office of Foreign Asset Control
Bureau of Alcohol, Tobacco and Firearms
Import Regulatory Authorities in India:
Central Board of Excise & Customs
Food Safety and Standards Authority of India
Central Drugs Standard Control Organization
Your Responsibility
This information contained in this page is only exemplary. You, as the importer of record into India, are responsible for ensuring that any and all items that you ask UniRelo to export from the United States satisfy all laws and regulations of India.